For authors looking to increase their reader base, discover new fans, and sell more books, there are a multitude of advantages of being a Gold or Platinum member of Written Word Media. 
Premium membership is the best way to make more money with your books—It's like having your own VIP rewards program in your pocket.
Below is a rundown of the cost-saving and performance-enhancing perks you will receive as a Premium member and how exactly they work.
10% Discount on All Written Word Media Promos
Maximize your return on investment by taking 10% off all your promos on Written Word Media. Gold Members receive up to $200 in discounts per year and Platinum members receive up to $500 in discounts per year.

This 10% discount immediately drops the cost of Written Word Media promos. That $395 promo stack with Freebooksy, Red Feather Romance, and and reader Reach Facebook ads now costs $355.50. But wait, there's more. Gold and Platinum members also save 10% on promos with our promo partners, when purchased via written Word Media. So that Fussy Librarian promo you wanted to pair with your Freebooksy? Purchase them both via Written Word Media, and save!

Members can easily track their discount usage in their dashboard to make sure they maximize their savings.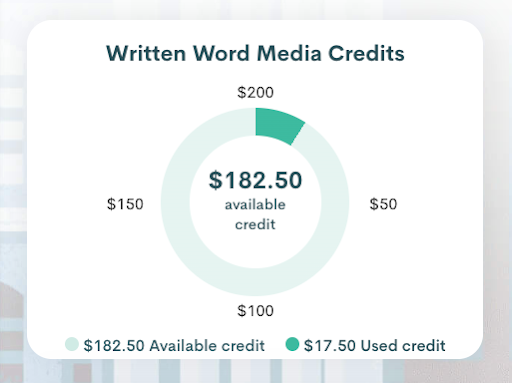 2-Week Early Access to Inventory 
Get those deals of the day before anyone else! If you're a Gold or Platinum member, you'll get a two-week head start on booking promo slots on sites such as Freebooksy, Red Feather Romance, and Bargain Booksy. Don't miss out on the perfect promotional day any longer; you'll be able to secure your promo dates before anyone else!
Marketing Assistance in real-time
If you are looking for assistance in setting up a promotion or require advice on the most suitable promotion for your book, our team of book marketing professionals is available to chat with you in real time. This option is only accessible to Premium Members and gives you the assistance you deserve, along with the expert marketing advice that will help you see better results. 
Access to Limelight
Limelight is a dedicated email that features you and your books only. You can include links to your website, social media accounts and dedicated store. This email goes out to readers across our Freebooksy, Bargain Booksy & Red Feather Romance brands and is only available to Premium Members. Grow your list and spike your sales with this highly effective promo.
Beta access to new products & channels of distribution 
We are continually creating new ways to assist writers in selling more books and generating more income. Premium members are the first to receive access to all of these innovative opportunities. 
Current perks for Gold & Platinum Members include:
Early access to

Subscriber Surge Giveaways

(currently in Beta) which lets authors add up to hundreds of readers interested in a specific genre to your email newsletter.

Access to 30-Day Facebook Reader Reach Ads (compared to the standard 5-day ads).
The opportunity to be included in the Yonder serial fiction partnership.

Free editorial placement for your books in our current promos if they're a good fit!

Beta access to our Brand New Promo Wizard! This innovative tool makes booking promotions faster and easier, and it helps you select the best placement for your books. It's like booking flights online, except the results are tailored to help you sell more books.
Savings on partner services
Ensure your indie author toolkit is fully stacked with the best services. Gold and Platinum members get the greatest savings and offers from the leading players in the publishing world. We've been able to arrange the most desirable prices with partners such as Reedsy, PublishDrive, Book Brush, BookFunnel, and many more!
Top Tier Education 
Being an effective book marketer means staying "in the know" on all the current indie publishing trends & new marketing tactics. We make sure Gold & Premium members are always up-to-date and able to make informed marketing decisions. 
We do this through our monthly Speaker Series (recordings are available to Premium Members), the Written Word Media Facebook Group (insightful book marketing discourse available to Free & Premium members) & the Monthly marketing tip included in your Premium author dashboard.  
Ready to become a Premium Member and start taking advantage of all the perks right away? 
Know someone would benefit from Written Word Media membership? Refer them to us and earn up to $75 per referral!